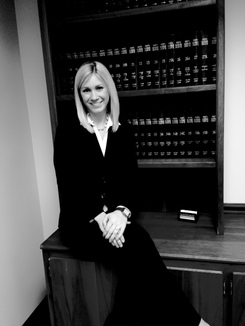 Ms. Snyder received her undergraduate degree in Journalism from the University of Missouri in Kansas City, then went on to law school and received her Juris Doctor at Washburn University, School of Law in Topeka, Kansas. Ms. Snyder volunteered for the Children and Family Law Clinic during her third year of law school and was chosen by the faculty to receive the Irvine E. Ungerman Award of Excellence. Ms. Snyder further distinguished herself by earning the Family Law Certificate by successfully completing a focused course of study addressing family law issues.
Ms. Snyder focuses her practice entirely on family law issues. She maintains membership in the Kansas Bar Association, Topeka Bar Association, and the American Bar Association. Ms. Snyder prides herself on relentless advocacy of every one of her clients in every family law matter.
Click
here
to contact Sarah Snyder by e-mail.
---
DISCLAIMER: The information contained on this website is general information only and should not be relied upon as legal advice or counsel. This website is not an offer to represent you nor does it intend to create an attorney-client relationship with you. No attorney client relationship exists between you and Snyder Law, LLC, unless and until one is expressly agreed to in writing by you and Snyder Law, LLC. Any links in this website are included only to help you locate other Internet resources that may be of interest to you, and are not intended to state or imply that this firm sponsors or is associated with any such links. The firm does not warrant the accuracy of or claim any responsibility for the information contained in these other websites.